[vc_row][vc_column][vc_cta h2="The Moringa Seeds Strategy" h2_font_container="color:%23ffffff" h2_google_fonts="font_family:Nothing%20You%20Could%20Do%3Aregular|font_style:400%20regular%3A400%3Anormal" h4="Meeting Needs and Bringing the Love of God" h4_font_container="color:%23ffffff" h4_google_fonts="font_family:Nothing%20You%20Could%20Do%3Aregular|font_style:400%20regular%3A400%3Anormal" txt_align="center" shape="square" use_custom_fonts_h2="true" use_custom_fonts_h4="true"]
The Moringa Seed Project / Peru Hope Tour from All Nations Soccer Ministries on Vimeo.[/vc_cta][vc_btn title="Donate to Peru Water Purifying Project" color="primary" align="center" i_icon_fontawesome="fa fa-paypal" button_block="true" add_icon="true" link="url:http%3A%2F%2Fallnationssoccer.org%2Fdonate%2F|||"][/vc_column][/vc_row][vc_row content_placement="middle" css=".vc_custom_1491321746573{padding-top: 150px !important;padding-bottom: 150px !important;background-image: url(https://allnationssoccer.org/wp-content/uploads/2017/04/Moringa-Seeds.jpg?id=2164) !important;background-position: center;background-repeat: no-repeat !important;background-size: contain !important;}"][vc_column width="1/2″][vc_empty_space height="115px"][vc_custom_heading text="A Seed of Hope" font_container="tag:h1|font_size:100|text_align:center|color:%23ffffff" google_fonts="font_family:Playfair%20Display%3Aregular%2Citalic%2C700%2C700italic%2C900%2C900italic|font_style:700%20bold%20regular%3A700%3Anormal"][/vc_column][vc_column width="1/2″][vc_btn title="Give for this Project" style="custom" custom_background="#ccaa74″ custom_text="#ffffff" shape="square" size="lg" align="center" i_icon_fontawesome="fa fa-cc-paypal" add_icon="true" link="url:http%3A%2F%2Fallnationssoccer.org%2Fdonate%2F||target:%20_blank|"][/vc_column][/vc_row][vc_row][vc_column][vc_column_text]
[/vc_column_text][/vc_column][/vc_row][vc_row gap="30″][vc_column width="1/3″][vc_column_text]
The Problem
Heavy rains have caused major floodings and landslides in Peru. The government has declared the country in state of emergency. Over 100 people have lost their lives. 141,860 people have lost their homes, and 205,640 homes have been affected. The north of Peru is the area that has suffered the most.
Due to the floodings, the drinking water supply systems have been affected to such degree that some had been shutdown. There are towns and villages that do not have access to drinking water due to the destruction that the floodings and landslides have caused.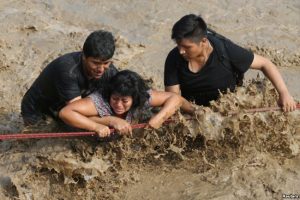 Looking to Help
We asked the Lord how could we share His love and mercy at this time. We asked the Lord to give us something we could take with us to those affected areas. We did not wanted to go empty handed. The Lord answered.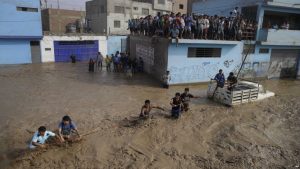 [/vc_column_text][/vc_column][vc_column width="1/3″][vc_column_text]
The Answer 
This week we watched a video from agricultural engineer Bernardino Lalopu. It showed something amazing, something only God could create. The seeds of the Moringa plant can be used to purify dirty water. These seeds have the property of attracting the impurities in water and separating them. The video showed how people could drink the water after going through this process.
[/vc_column_text][vc_column_text]
The Strategy
It is to these locations that we can take these seeds and use them to purify the dirty water. These will be the tool that will give us entrance to share about the true living water that every human being needs.
We would first get the seeds from engineer Lalopu, who lives in northern Peru, area struck by the floodings. From there we will continue our journey as the Holy Spirit guides us. We know we have the best GPS in the entire universe. God has given us a strategy and we take it in Jesus name. We are trusting in the Lord that He will guide us all the way to those towns and villages. We don't know any of them, but God knows them. Praise be to Jesus.
[/vc_column_text][/vc_column][vc_column width="1/3″][vc_column_text]
Our Hope
We believe the Lord can take any bad situation and turn it to something amazing, that is salvation in Jesus Christ. God can take this natural disaster in Peru and turn it to something glorious: souls being won for Jesus. We see this in our spiritual eyes and we believe God can do it. If God was able to spare Nineveh from a disaster, He is more than able to spare souls from hell within a disaster, and this through the blood of Christ.
More than anything, we just need your prayers that souls would be saved and delivered from the bondage of sin in Jesus Christ name. God is using this time for His children to act in faith and believe that everything is possible when we have Him on our side. It is a win-win situation. Praise be to Jesus.
Peru won't be the same after all that has happened, and souls won't be the same after what God will do in the midst of this situation. God has Peru in His hands and we, His children, are His fingers. Whatever we touch, He will touch. So wherever we'll go in Jesus name, He will go before us and wherever His name is preached, He will touch those souls for eternity. We pray this in Jesus precious name. God bless you. – By Ivan Flores, ANS Ministries Peru Director
Sources:
http://www.americatv.com.pe/noticias/actualidad/coen-se-eleva-85-numero-fallecidos-lluvias-y-huaicos-n270342
https://c.ymcdn.com/sites/echocommunity.site-ym.com/resource/collection/12164DCB-6FCC-42E5-899A-DBA41B1A9B19/TN_52_Moringa_Water_Treatment.pdf
[/vc_column_text][/vc_column][/vc_row][vc_row][vc_column][vc_facebook type="button_count"][vc_tweetmeme][vc_googleplus][vc_pinterest][/vc_column][/vc_row]